What's new?

SUPPORT TO THE POOR TO FIGHT AGAINST SARS!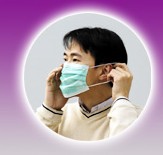 In order to assist the poor citizens to fight against the atypical
pneumonia, SoCO raise a campaign for donating face masks and the
cleaning detergents. You can participate by the following means
1. Donate the face mask (3-layer surgical mask with rubber bands is preferred) or cleaning detergents (such as Bleach)
(Citizens can directly transport those goods to our office at Sham Shui Po. Address: 2/F, 117 Kweilin Street, Sham Shui Po, Kowloon) (Please contact us first in advance, Tel. 2713-9165)
2. Donate money to our bank account (Download donation form)
Methods of Donation:
1. Please use crossed cheque payable to "Society for Community Organization Ltd." and enclose with this form and send them to SoCO.
2. Transfer the amount to SoCO's saving account at Hong Kong Bank. The account number is 071-6-041937.
** Donation over $HKD100 will be tax deductable and the official receipt would be provided.

Address: 3/F, 52 Princess Margaret Road, Kowloon, HK.

Tel.: 2713 9165 Fax: 2761 3326