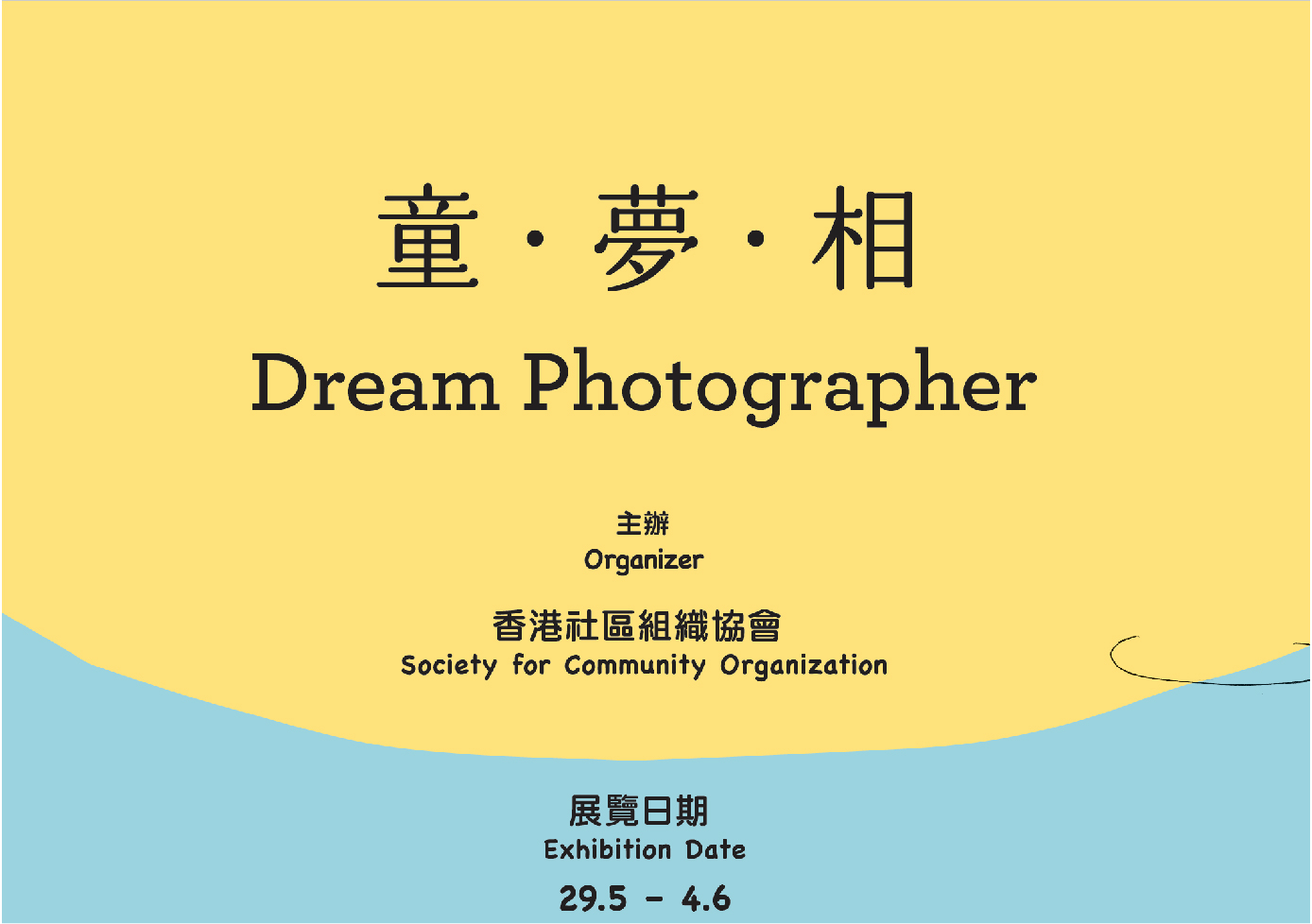 Dream Photographer – Photo exhibition records the dream pursuing process of grassroots children
About exhibition (有關展覽 )
The Society for Community Organization (SoCO) will be staging the Dream Photographer – Photo exhibition records the dream purusing process of grassroots children from 29 May to4 June 2014at the Hong Kong Cultural Centre at Tsim Sha Tsui, Kowloon. The exhibition will feature photography taken by underprivileged children, telling their story of dream pursuing through photography. SoCO will also be distributing the recently published photo collection book, Dream Photographer, at the exhibition.
"One of the saddest lines in the world is, 'Oh come on now – be realistic.' The best parts of this world were not fashioned by those who were realistic. They were fashioned by those who dared to look hard at their wishes and gave them horses to ride."
These lines were written by a famous American writer, Richard Nelson Bolles, to remind people about how to realise their dreams. Unfortunately, this saddest line is often used by many adults to teach young children how they should be realistic and not dream too much.
When I read these stories written by 21 children from deprived backgrounds about the pursuit of dreams, it didn't surprise me that even without ever having been told to do so, they'd already accepted the "be realistic" ideology and were pragmatic enough to refrain from pursuing their own dreams. They hope on the one hand to be able to achieve their own dreams as in the poem written by Li Bai, the famous Tang poet, which states:"Having the grand dreams of flying, I wish to fly to the sky and embrace the moon", and yet on the other, these children are already prepared to accept a job that will not fulfill their grand dreams.
It's never that easy to work out your life dreams and make them come true. This is even more difficult for young children who are confined to small, sub-divided flats and brought up in run-down neighbourhoods. For these young children, to pursue their dreams and make their wishes come true is a demanding journey with many challenges, where they are often left feeling helpless, a reflection of the ineffectiveness of Hong Kong's policies on needy children.
Ultimately, we all have to travel our own life journey. Nevertheless, there are some who are lucky enough to have all the support they need to make the journey easy, and yet there are others who are deprived of the same support and cannot pursue a dream that they want to achieve. Let's give these less privileged children a hand and be a part of their journey in pursuing their dreams.
香港社區組織協會將於29/5-4/6在尖沙咀香港文化中心E3及E4大堂舉行童.夢.相 攝影展覽,展示貧窮兒童親身攝影的相片故事及追夢的故事,並發佈最近出版貧窮兒童攝影集童.夢.相 Dream Photographer。
「世上其中最喪志的一句話是『別鬧了,實際點』。這世界最美好的事物不是由實際的人所創造,而是那些敢直視他們願望、並助其快速實現的人。」 這是美國著名作家理察‧尼爾森‧鮑利斯談及夢想時,對世人的提點。但是不幸地這句最喪志的話是現今現實世界,成人最常教訓小孩子的用語。
細閱二十一位在貧困環境長大的小孩子追尋夢想的故事,不難發現,這些小孩子正面對要?實際點」的困局,不用等成人來教誨,已很自律地約束自己的夢想,並有兩手準備。一方面希望擁有如李白的詩:?俱懷逸興壯思飛,欲上青天攬明月」般的豪情壯志,探索夢想,另一方面又發展朝著與生活掛勾的實際職業。
探索自已的夢想所在,追求自己的夢想從來都不是容易的事,對於被困在狹窄的?房、穿梭在舊街窄巷的小孩子而言,更平添了幾重難度。他們在追求夢想的旅程中,那份渴求、那份掙扎、那份無奈和吃力,彰顯香港社會兒童政策的蒼白。
每個人都需要靠自己走出屬於自己的路,但是有人在路上支援十足,暢通無阻,有些人卻崎嶇滿路,寸步難移,我們不禁想伸出援手扶這對小手一把,陪他們走一程。
Exhibition details (展覽詳情)
Exhibition Date (展期): 

29 May 2015 (Fri) to 4 June (Thur)

Exhibition Time (時間): 

10:00am – 10:00pm

Venue (地址): Area E3 & E4, Hong Kong Cultural Centre, Tsim Sha Tsui
   尖沙咀文化中心E3及E4大堂