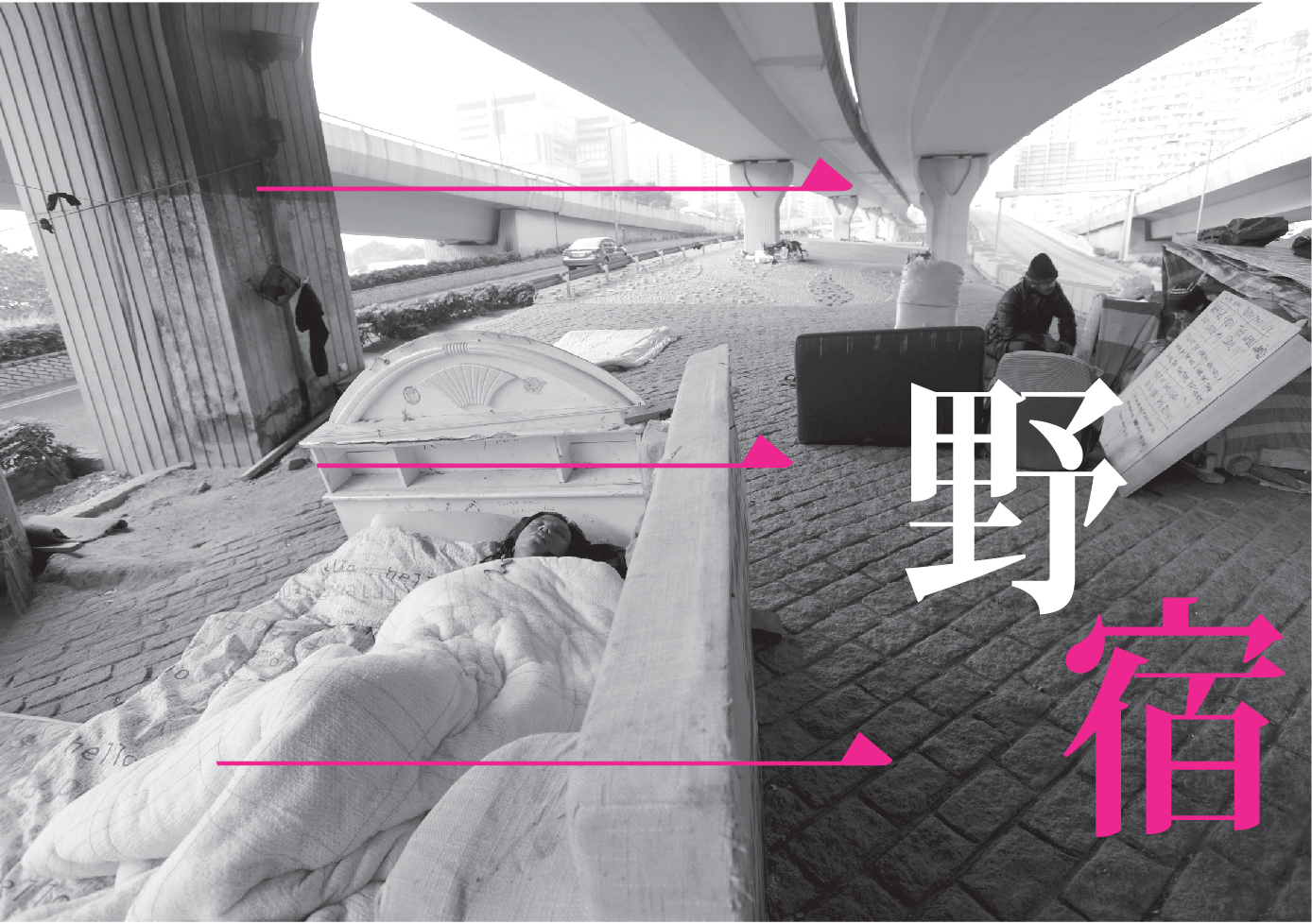 Homeless III – Photo Exhibition of the Homeless in Hong Kong
About exhibition (有關展覽 )
Having recorded the life of Hong Kong homeless people for 15 years, SoCO and photographer Lei Jih-sheng published Homeless III, the third photo collection of street sleepers. Following Homeless I & II, the new collection features the shrinking living space of the homeless in the metropolis, as well as their helplessness and dismay.
香港社區組織協會與攝影師雷日昇攜手,十五年持續拍攝香港露宿者生存實況。
繼《野宿》、《野宿二》後,第三度出版紀實圖文,披露露宿者愈加狹小的生存空間,被趕絕的無奈處境。
Exhibition details (展覽詳情 )
13 May to 13 Jun, 2014 8am – 11pm | Exhibition Podium, Youth Square, Chai Wan
  2014年5月13日- 6月13日 8am – 11pm | 柴灣青年廣場的Y展覽平台
Feb 10-16, 2014 10 am-10pm | Ground floor, Exhibition area E3 and E4, Hong Kong Cultural Centre, Tsim Sha Tsui  
  2014年2月10日- 2月16日 10am -10pm |尖沙咀香港文化中心地下大堂E3及E4展區
12pm – 6pm, Feb 28 – Mar 30, 2014 Every Friday, Saturday, Sunday | 1st floor, 269 Yu Chau Street, Sham Shui Po
  2014年2月28日- 3月30日 逢星期五、六、日 12pm-6pm | 深水埗汝州街269號1樓
Special Events (特備活動)
1. Activities of Public Education (公眾教育活動) 
Public education activities will be held during the exhibition in SSP. If you are interested, please book in advance by calling 2713 9165 or sending email to socohkg@gmail.com. Thanks!
深水埗展覽期間,「野宿三」還將舉辦一系列公眾教育活動。如有興趣參加,請透過電話 2713 9165或電郵socohkg@gmail.com報名,謝謝!
Group Visits & Tour (團體導賞 )
In-depth introduction of homelessness by social workers; suitable for groups of 20-35 persons; each tour lasts one hour
社工為你深入講解露宿現況,適合20-35人團體,每場導賞約1小時
Charges: Non-profit organizations: HK$ 1,000/group; Business institutions: HK$ 2,000/group
  收費:非牟利團體:HK $1,000/團; 商業機構:HK $2,000/團
Please inform time you prefer during registration 
  報名時請告知適合你的時間
2. Talks & Sharing (講座分享)
Sharing of homeless stories and relevant policy issues; each sharing lasts one hour
社工與露宿朋友與你分享露宿背後的生命故事和政策問題,每場講座約1小時
Charges: HK$ 50/人  收費:HK$50/人
Please select time you prefer during registration
報名時請選擇適合你的時間
1/3/2014, 4pm-5pm □ 8/3/2014, 4pm-5pm
15/3/2014, 4pm-5pm □ 22/3/2014, 4pm-5pm
3.Public Screening of Homeless FC (記錄片《曙光足球隊 Homeless FC》放映 )
Homeless FC follows a group of homeless people, who tried hard to participate in the Homeless World Cup
導演James Leong, Lynn Lee歷時一年跟拍一群露宿朋友參加無家者世界杯的故事
Donation (捐助社協): HK$ 40/人 Donation HK$ 40/person

Time (時間):29/3/2014, 4pm-6pm