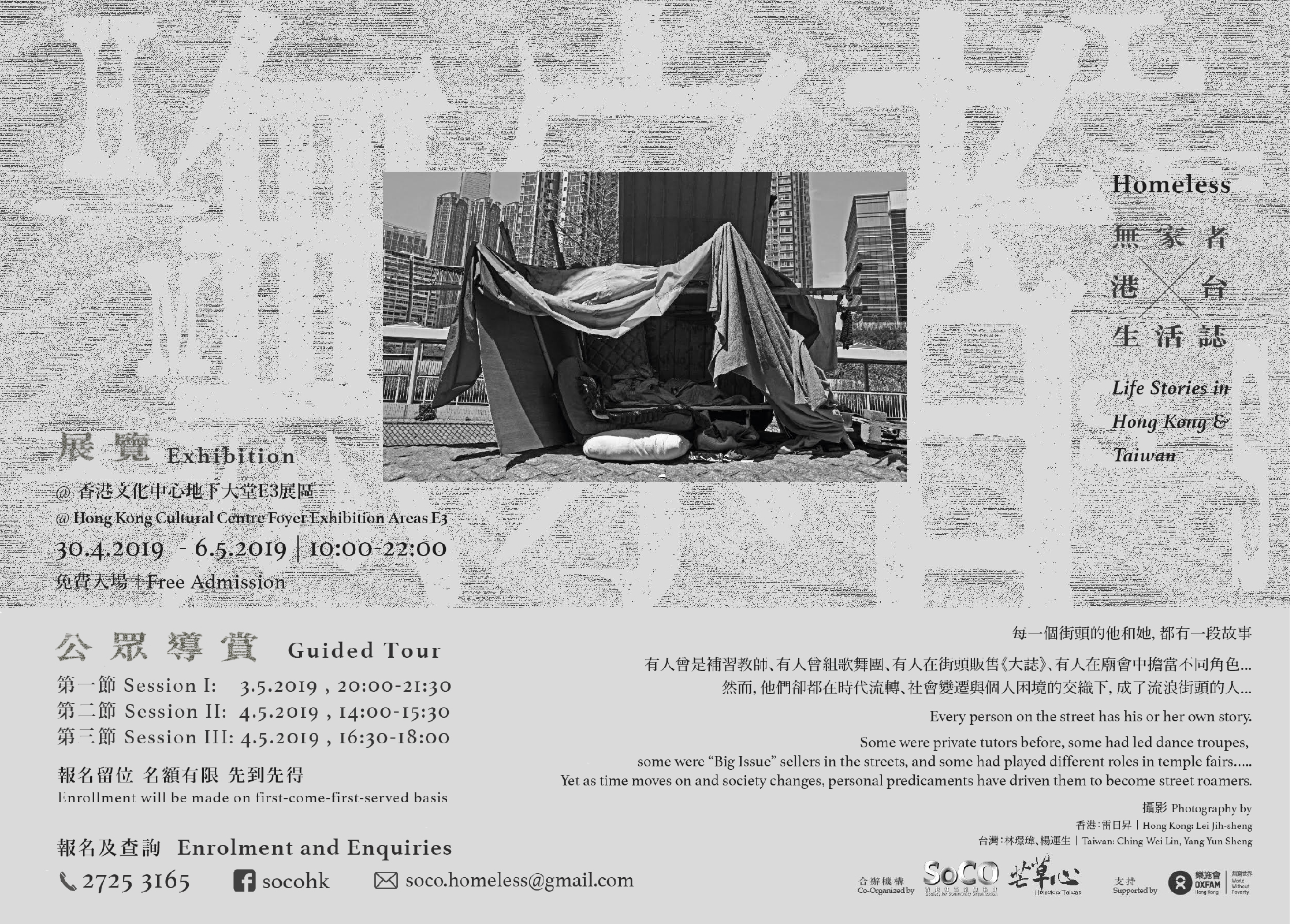 Homeless – Life Stories in Hong Kong and Taiwan
Every person on the street has his or her own story.
In Hong Kong, some were private tutors before, some had led dance troupes and some are ethnic Vietnamese who spent half of their lives building and serving Hong Kong…… In Taiwan, some were projectionists before, some were "Big Issue" sellers in the streets and some had played different roles in temple fairs…..
Yet as time moves on and society changes, personal predicaments have driven them to become street roamers.
SoCO has partnered with Homeless Taiwan to present "Homeless – Life Stories in Hong and Taiwan" Exhibition to allow the public to take a detailed look at their stories through these fading images.
每一個街頭的他,都有一段故事
在本港,有人曾是補習教師、有人曾組歌舞團、有半生都在建設香港的越南裔人士…
在台灣,有人曾經是電影放映師、有人在街頭販售《大誌》、有人在廟會中擔當不同角色….
然而,他們卻都在時代流轉、社會變遷與個人困境的交織下,成了流浪街頭的人
香港社區組織協會夥拍 台灣芒草心慈善協會,呈獻《無家者-港台生活誌》展覽,讓公眾從一幅幅沖刷的影像中,細覽無家者們曾經的風景。
Exhibition Date:  30/4/2019 to 6/5/2019
Exhibition Time:  10:00 – 22:00
Venue:  Hong Kong Cultural Centre Foyer Exhibition Areas E3
Photography by:
  Hong Kong- Lei Jih-sheng
  Taiwan- Will Lin, Yang Yun Sheng
展期:  30/4/2019 to 6/5/2019
時間:  10:00 – 22:00
地址:  香港文化中心地下大堂

E3

展區
攝影:
  香港—雷日昇
  台灣—林璟瑋、楊運生
Kim, Ha, Irene Chan, Chio Hio Tong, Chan Yau Nga Alpha, Stephanie Yang
Chan Lai Lan Rita, Cheung Ka Yu Karen, Pin Xi,
Ng Hon-wah, Kemmiss Pun , Grace Tsoi, Amelia Luk, Margaret So
霞、金、陳倩兒、趙曉彤、陳柔雅、楊子琪
陳麗蘭、張嘉茹、品希、吳漢華、潘愛儀、蔡曉穎、陸少冰、蘇蕙英
Guide Tour of 'Homeless – Life Stories in Hong Kong and Taiwan' Exhibition
Date:

1.    3 May 2019 (FRI)       Time: 8p.m. to 9:30p.m.
2.   4 May 2019 (SAT)      Time: 2p.m. to 3:30p.m.
3.   4 May 2019 (SAT)      Time: 4:30p.m. to 6:30p.m.

Venue: Hong Kong Cultural Centre Foyer Exhibition Areas E3
Enrollment will be made on first-come-first-served basis. (Priority to 'Homless' publication purchaser.)
  Enrollment Form: https://bit.ly/2VUWqc9
日期:

1.    3/5/2019 (五)       8 p.m. to 9:30 p.m.
2.   4/5/2019 (六)       2 p.m. to 3:30 p.m.
3.   4/5/2019 (六)       4:30 p.m. to 6:30 p.m.
報名留位 名額有限 先到先得 ( 名額以訂購《無家者》書籍人士優先)
[SoCO x Homeless Taiwan] Publications Pre-sale Early Bird offer!
【社協 x 芒草心】出版書籍早鳥優惠!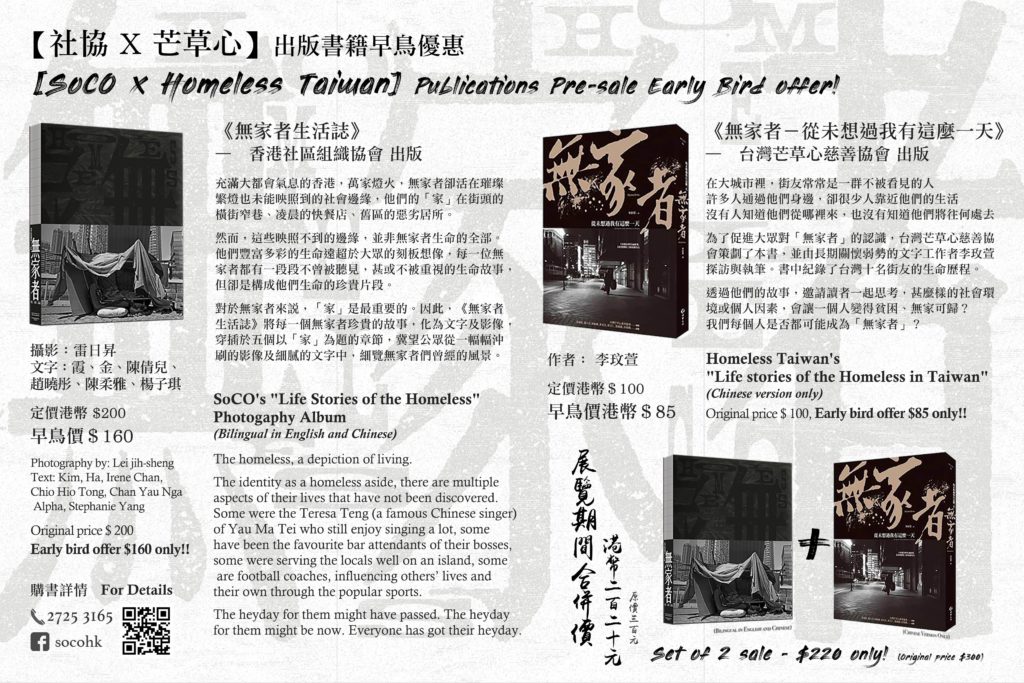 SoCO's latest publication "Life Stories of the Homeless" photo album (Bilingual in Chinese and English) & "Homeless- Never Thought I Had Such A Day" (Chinese version only) by Homeless Taiwan now on sale!
Now until 6th May 2019, order any publication item you can enjoy early bird offers, and get 2 priority tickets to join our 'Homeless – Life Stories in Hong Kong and Taiwan' exhibition guided tour*, you may interact with real life charaters from the books.
For details: https://bit.ly/2GwixjT
由即日起至 2019年5月6日前訂購 社協最新出版之《無家者生活誌》攝影集 /台灣芒草心慈善協會出版之《無家者-從未想過我有這麼一天》,即可享早鳥優惠,以及優先換取2張《無家者-港台生活誌》展覽公眾導賞*入場劵,與無家者互動交流。
Homeless-Life Stories
in Hong Kong and Taiwan
HO, Hei Wah, B.B.S., J.P.
Director, Society for Community Organization
Translated by Ng Hon Wah
SoCO has been serving the marginalized community and street-sleepers since 1999. Since 2002, we have kept on publishing Homeless, which is a series of collections of writings and pictures to record the street-sleepers' stories of struggling for existence. We once hoped, idealistically, that there would be no street-sleeper in Hong Kong and we could wind up our work with success. It is a pity that things do not turn out the way we wish. After 20 years, the street-sleeper population has risen instead of fallen. The trend in recent years suggests that further increases will be inevitable. The number has increased from 511 in 2011 to 1270 in 2018, an increase of nearly 150%. During the period, the number of government subsidized hostel bed spaces has increased by 20 only. There is a long-term shortage in hostel bed spaces. However, it appears that the government has no intention to "race to make up for the lagging behind" in the same they do for housing and land supplies. Rather, they gratefully allow the homeless lag behind at the fringe of the society.
Faced with such predicament, we can perhaps bring new ideas into our work by looking at other parts of the world. Work for the homeless even in a place as near as Taiwan is worth taking as reference for Hong Kong. Since quite some time ago, Taiwan has let in the British social enterprise for the homeless, Big Issue,translated in Taiwan as The Big Issue Taiwan in Chinese. To the homeless and underprivileged communities responsible for peddling the magazines, it provides employment opportunities, enabling them to rehabilitate on their own efforts. There are also street guided tours for the homeless to guide members of the public to know their life, which if known to few people. As a result of campaigning by the homeless people and their organizations, the homeless may, during daytime, deposit their belongings in stipulated places in Taipei Railway Station and nearby park, where the belongings are managed by designated staff and placed tidily. Thus, the homeless and general members of the public can live harmoniously in the community without interfering with each other.
Helplessly, Taiwan, like Hong Kong, is faced with the challenge posed by exorbitant rent and poor living environment, which propel the rapid increase in the homeless population in both places. The homeless also start to sleep in 24-hour chain fast food shops and internet cafes. Therefore, SoCO hopes that the present exhibition, Homeless-Life Stories in Hong Kong and Taiwan, will unveil and compare the living conditions of the homeless in the two places, enable the voice of the homeless to be heard and arouse public concern for the homeless.
For the smooth holding of the present exhibition and the exchange program among the homeless of the two places, thanks are due to various organisations and volunteers for their relentless assistance. They are: Oxfam Hong Kong, exhibition and exchange program sponsor; photographer Lei Jih-sheng, who for nearly 20 years since 2002, has voluntarily shoot for SoCO the Homelessseries of photo albums; Homeless Taiwan Association; Taiwanese photographers Ching-Wei Lin and Yang Yun Sheng; the six writers – Irene Chan, Chan Yau Nga Alpha, Chio Hio Tong, Stephanie Yang, Kim and Ha – who compose for us the stories of the homeless. Most important of all, of course, there are the homeless people in the two places, who are willing to disclose to the public their truest aspect.
We have heard that the film I'm Livin' It will be screened in Hong Kong shortly. The film is mainly about dribs and drabs of the homeless people's life in 24-hour fast food restaurants. SoCO hopes that the society at large will not regard the homeless as merely "strangers" and will accept homeless people as part of the society. At the same time, to the homeless people in Hong Kong and Taiwan, we wish to say that, as with the concept behind the social housing 'Friend Home operated by SoCO since 2018, they should re-establish from the beginning the strength and endurance of life, be robust and independent and change from "homeless" to become "with home".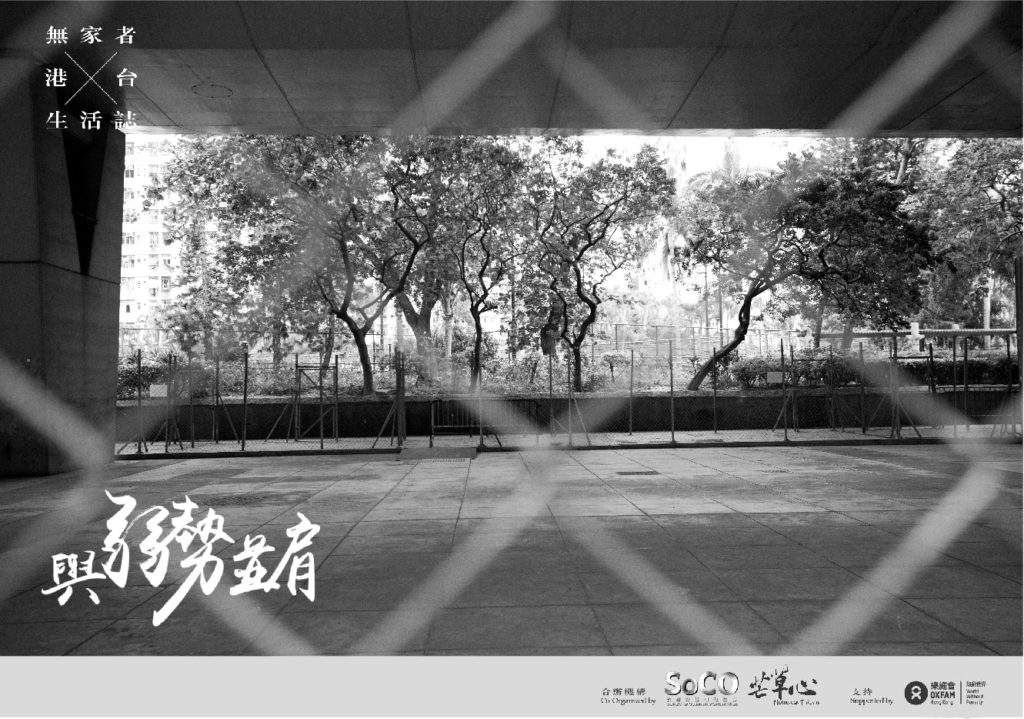 何喜華B.B.S., J.P.
香港社區組織協會主任
社協自1999年起開始服務邊緣社群及露宿者,2002年起,持續出版以露宿者為題的《野宿》系列圖文集,紀錄他們掙扎求存的故事。我們曾理想化地盼望香港會有一天完全沒有無家者,我們的工作也可功成身退。可惜,事與願違,經過20年寒暑,露宿者人口不跌反升,近幾年更有一發不可收拾之勢,由2011年的511人上升至2018年底的1270人,人口上升接近1.5倍,期間政府資助宿舍宿位卻只增加20個。宿位供應長期短缺,但政府看似無意像房屋及土地問題般傾力地「追落後」;倒甘心樂意地繼續讓無家者處於社會邊緣的「落後」位置。
面對如斯窘局,或可放眼世界,為我們的工作帶來新思維。近如台灣的無家者工作,也十分值得本港參考。台灣早已引入英國無家者社會企業《BIG ISSUE》,在台灣中文譯名為《大誌雜誌》,為負責販賣此雜誌的無家者及弱勢社群提供工作機會,自力更生;也有街頭導賞團,讓無家者帶領公眾人士認識他們鮮為人知的生活;在無家者與團體的爭取下,無家者在白天可將家當放置於台北車站及附近公園的指定位置,並由專責人員管理,將物品井井有條地擺放,讓無家者與普羅大眾於社區共融地生活而互不影響。
但無奈地,台灣與香港同樣面對租金昂貴及住屋環境惡劣的挑戰,促使兩地的無家者人口急速上升,無家者亦開始於24小時連鎖快餐店或網吧度宿。因此社協期望透過是次展覽《無家者-港台生活誌》,呈現及比較兩地無家者的生活狀況,讓無家者的聲音被聽見,並喚醒公眾對無家者的關注。
聞說香港電影《麥路人》(I'm Livin' it) 快將上畫,電影主要講述在24小時快餐店內無家者的生活點滴,社協寄望社會大眾,不要視無家者只如「陌路人」,也接納無家者成為社會的一份子。同時,寄語港台兩地的無家者,如社協於2018年開始營運的社會房屋-「友家」理念一樣,重新建立生命的韌性及耐性,茁壯自立,從「無家者」成為真正的「有家者」。
是次展覽及港台兩地無家者交流活動得以順利舉行,實有賴不同團體及義工鼎力協助。分別是資助機構樂施會、自2002年起,為社協義務拍攝《野宿》系列攝影集,至今接近20年的攝影師雷日昇、台灣芒草心慈善協會、台灣攝影師林璟瑋、楊運生,以及陳倩兒、陳柔雅、趙曉彤、楊子琪、金、霞六位文字工作者,為我們義務撰寫無家者的故事。當然最重要的,是一眾港台兩地的無家者,願意將自己最真實的一面向大眾呈現。